Rotating Monthly Magnetic Calendars
Dry-Erase Porcelain White Panels
1, 3, 6, OR 12 Month Systems Up To 16 Events per Day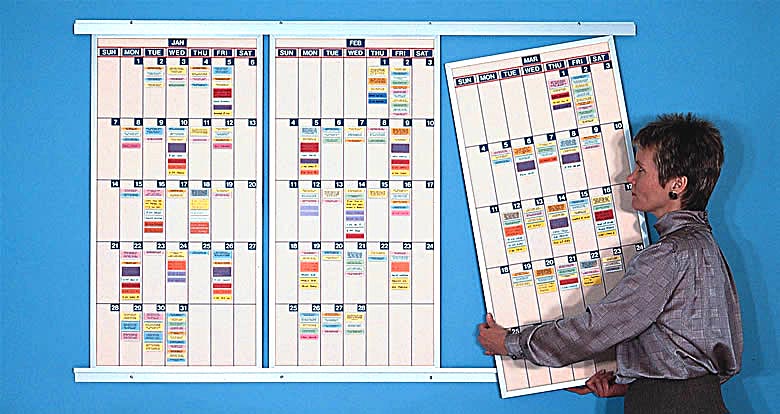 Kit No. RP113 $679.00. Picture shown with 3 Panels 36"H x 18"W.

FLEXIBLE SCHEDULING WITH MAGNETIC COMPONENTS, Allows You to Make Changes And Updates Quickly And Easily Just By Moving Magnets. Schedule School Activities, Production Schedules, Meetings, etc.

This unique system always displays months in the correct sequence, from left to right. And you're able to post schedules at your desk. No need to work in busy traffic areas.

Each system is expandable to as many months as you desire....simply add 1-month panels as needed.

HOW IT WORKS:

Position Pre-Printed Magnetic Months, Magnetic Days, and Magnetic Dates in appropriate places on the board. Then post information on the Write-On/Wipe-Off Magnets and Magnetic Cardholders with Colored Card-Inserts.

These Modular One -Month Calendar Panels lift out of Wall Tracks for easy updating at your desk. When the current month expires, just remove the first panel and slide the others to the left. The expired panel is then re-posted at your desk and repositioned at the far right end to complete the current 3, 6, or 12 month schedule.

Select your system from the chart below, based on the maximum number of events per day you need to post. Systems are available in 1, 3, 6, or 12 month models.

Every Panel Is Pre-lined In A 1-Month Format, and kits come complete with Wall Tracks (except 1 month panel systems); Magnetic Day, Date, and Month Headings, Magnetic Write-On Strips in 2 sizes and 12 colors, Magnetic Cardholders, and Card Inserts in 2 sizes and 12 colors; Magnetic Symbols in 12 colors; Wet-Erase Magnet Marking Pens, Magnetic Title-Blanks, and Adhesive Lettering Sets.
Choose from 3 panel Sizes Below:
Kit Number
No. Of 1 Month Panels in System
Maximum
Events Per Day
Individual Panel Size
H x W
Total Length of System
Write-On Magnets

Magnetic Cardholders
Card Inserts 2 Sizes
12 colors
Magnet Marking Pens
Complete Kit Price
1/2"x2"
1" x 2"
1/2"x2"
1" x 2"
RP61
1
6
24" x 18"
18"
24
24
25
25
200
1
$189.00
RP63
3
6
24" x 18"
56"
84
84
75
75
400
2
$519.00
RP66
6
6
24" x 18"
112"
132
132
125
125
600
2
$899.00
RP612
12
6
24" x 18"
220"
204
204
200
200
800
2
$1319.00
Kit Number
No. Of 1 Month Panels in System
Maximum
Events Per Day
Individual Panel Size
H x W
Total Length of System
Write-On Magnets

Magnetic Cardholders
Card Inserts 2 Sizes
12 colors
Magnet Marking Pens
Complete Kit Price
1/2"x2"
1" x 2"
1/2"x2"
1" x 2"
RP111
1
11
36" x 18"
18"
36
36
35
35
200
1
$239.00
RP113
3
11
36" x 18"
56"
120
120
110
110
400
2
$679.00
RP116
6
11
36" x 18"
112"
180
180
175
175
600
2
$1009.00
RP1112
12
11
36" x 18"
220"
276
276
275
275
1000
2
$1609.00
Kit Number
No. Of 1 Month Panels in System
Maximum
Events Per Day
Individual Panel Size
H x W
Total Length of System
Write-On Magnets

Magnetic Cardholders
Card Inserts 2 Sizes
12 colors
Magnet Marking Pens
Complete Kit Price
1/2"x2"
1" x 2"
1/2"x2"
1" x 2"
RP161
1
16
48" x 18"
18"
48
48
45
45
400
1
$279.00
RP163
3
16
48" x 18"
56"
144
144
140
140
600
2
$789.00
RP166
6
16
48" x 18"
112"
228
228
225
225
1000
2
$1219.00
RP1612
12
16
48" x 18"
220"
336
336
325
325
1400
2
$1719.00